Photo Credit: Google.com
Starting this week (Monday), I made the decision to consciously include in a fitness regimen as part of my daily routine after being out of it for a while.
Now, you all know that I am absolutely #TeamFoodFirst versus team kill-yourself-with-overwhelming-hours-on-the-treadmill. The latter makes little sense to me, especially when processed foods and refined sugars are the order of your diet.
SO when I say fitness, it could be a walk, a run, jumping on the trampoline, cycling, swimming, or some time in the gym. I have been an athlete for the most part of my life and naturally enjoy being active for various reasons!
PLUS, I'm thinking of doing the ugly sweater (5k) challenge this month. Not sure yet. The temperature will tell 😩(It did last year😭😂)
I have to say, I am really happy with results so far. I sleep better,I eat better, I drink a good amount of water, most importantly, it's instilling some good discipline in me as I don't get to snooze my alarm anyhow I want anymore. Painful, but good! Listen, my prayer sessions are even reaping the benefits! Lol! I plan on doing the #Whole30 for the month of January next year (4th year plant strong!💪🏾Who's up for a challenge?) so I know this is a step in the right direction!
Ladies (and Gentlemen), please remember there is absolutely no point in stuffing your body with processed foods and refined sugars and then caging yourself in the gym to burn fat.
No matter what your ultimate goals are when it comes to fitness, it starts with food-REAL food. "Time in the gym is not an indicator of success"
Always remember this freeing realization: The 80-20 applies to food & fitness.So eat, eat, eat, eat, eat HEALTHY(!!!!)…. and then work.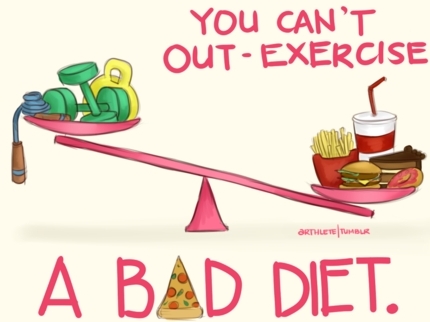 Photo Credit: Google.com
Throwing it back to me at the Pop Sugar Fitness Event last year with Celebrity Trainer: Adam Rosante! (So intense!!)
SaveSave