Hello Everyone!
So if you follow me on social media, you know by now that I am starting the #Whole30 in 21 days!!! Ahhhh! Seriously so excited about this one! I am always up for a challenge; especially if it instills in me the needed discipline.
One thing about me is, I am always up for a challenge that shows my body tough love (aka disciplines me!) and I love to work with proven benefits. …okay, that's two things but you get my drift. *wink*
During the summer of June 2013, I took note of this one lady on my Instagram feed who was always putting up colorful plant-based meals. I was seriously intrigued and decided .. "that's going to be me one day! Matter of fact, that's going to be in January 2014! (haha!)"
Just like that, I began to wean myself off the carnivorous diet I had known all my life and made the announcement!
Everyone thought it was just a phase, and/or I had completely lost it! I LOVED my chicken, meat, fish! I wasn't even into eggs.lol. I ate chicken by trays and buckets. That was my definition of individual serving. So how is this same person going to wake up one day and say she's done with animal protein? You get why this was such a joke to everyone? The funniest thing I always hear: "You're African and Plant-based?!" hahahaha! Hilarious!
Yes, I started by going "vegan"; but over the last 3 years, I have come to realize there's more to my health than strictly adhering to a "diet".Yes, "diets" do a great job at steering you in the right direction, but if you don't do your homework, you may end up misinformed – sometimes doing yourself more harm than good getting into something you can't keep up with. Let your focus be on REAL FOOD! Nutritionally, I know I am in such a great place now!Junk has no rule over me in anyway! Yes, there are days when I am so tired (I should say lazy) and I contemplate having cereal "just this once". But I am so grateful for that power to be able to say no to what does not nurture my body. A lot of mistakes and regrets in life start with "just this one time": Fornication, Adultery, Poor eating habits leading to Obesity, … you name it… started with "just this once." I refuse to be another statistic. You should too!
Anyways, forgive the Chatty Cathy in me who always has something to say. 🙂
So my #JourneyToWhole30 means goodbye to all kinds of grains, and legumes in my pantry! I am not on the dairy wagon, so that's not a headache. Oh yes, and my maple syrup as well!#Whole30 does not include any natural sweeteners no matter how organic, dark and robust taste my maple syrup is!😩😩
Now, I literally plan breakfast every night before I go to sleep. Rarely would you find me waking up with no clue as to what I am having for breakfast. Very very rare situation.
I know my oats need to be gone by January 1st, but I also want to say fancy goodbyes. Cue Sweet Potato Oatmeal (because #SweetPotatoConvert!) topped with caramelized Almonds and my latest obsession of the season: FUYU PERSIMMONS!
Listen, if you're not already hungry just by reading this, I don't know what kind of appetite you have!
This breakfast bowl is:
bursting with all the flavor in the world
heartwarming
heaven in a bowl for a cold winter morning!
I couldn't keep the recipe to myself! Thank me soon! 😉
Ingredients:
1 medium sweet potato (bake ahead of time to reduce cooking time :))11/2 cup of rolled oats. (If using steel cut, soak overnight in mineral solution)1/2 cup of almonds (soaked in mineral solution for at least 8 hours)1 tbsp of maple syrup1 fuju persimmon1 tsp each of cinnamon and nutmeg plus extra to dust caramelized almonds1 cup of milk of choice (for a creamy texture)**optional1/2 tbsp of vanilla extract1tbsp of coconut oil
Instructions:
(See notes for how to bake your sweet potato)
Bring 11/2 – 2cups of water to a boil on medium-high heat. The volume of water depends of whether you are going to be using milk or not. Use less if using milk.Rinse oats thoroughly and add to pan of water.Add cinnamon and nutmeg to oats and reduce heat to medium if on high.If using milk, cook for about 7 minutes (not fully ready) and then add milk.
In the meantime, peel off the skin of baked sweet potato and mash with a fork or potato masher. (You really wouldn't need a food processor for this one)
Cook for another 5 minutes and fold in pureed/mashed sweet potatoes. (Add more milk according to preference. I say 1 cup is fine)Remember, sweet potatoes are already cooked and so once that's added, reduce heat and leave for just about two minutes.Remove from heat and stir in vanilla extract
For the caramelized almonds (or whatever nuts you have)
Preheat oven at 350 degreesRinse soaked almonds thoroughly, gently pat dry with paper towel and place in oven for 7-10 minutes.At 7 minutes, check on almonds and dust with cinnamon. Bake for another 2 minutes and turn off oven.Place skillet/frying pan on medium heat and add 1 tbsp of coconut oilAdd maple syrup and toss in almonds.Reduce heat and carefully stir until almonds are uniformly coated with maple syrup WITHOUT BURNING THEM 😉
Dish out your oatmeal and top with caramelized almonds and fuyu persimmons or whatever fruits you're obsessed with! Trust me, you wont even need the fruit! This is so good!!!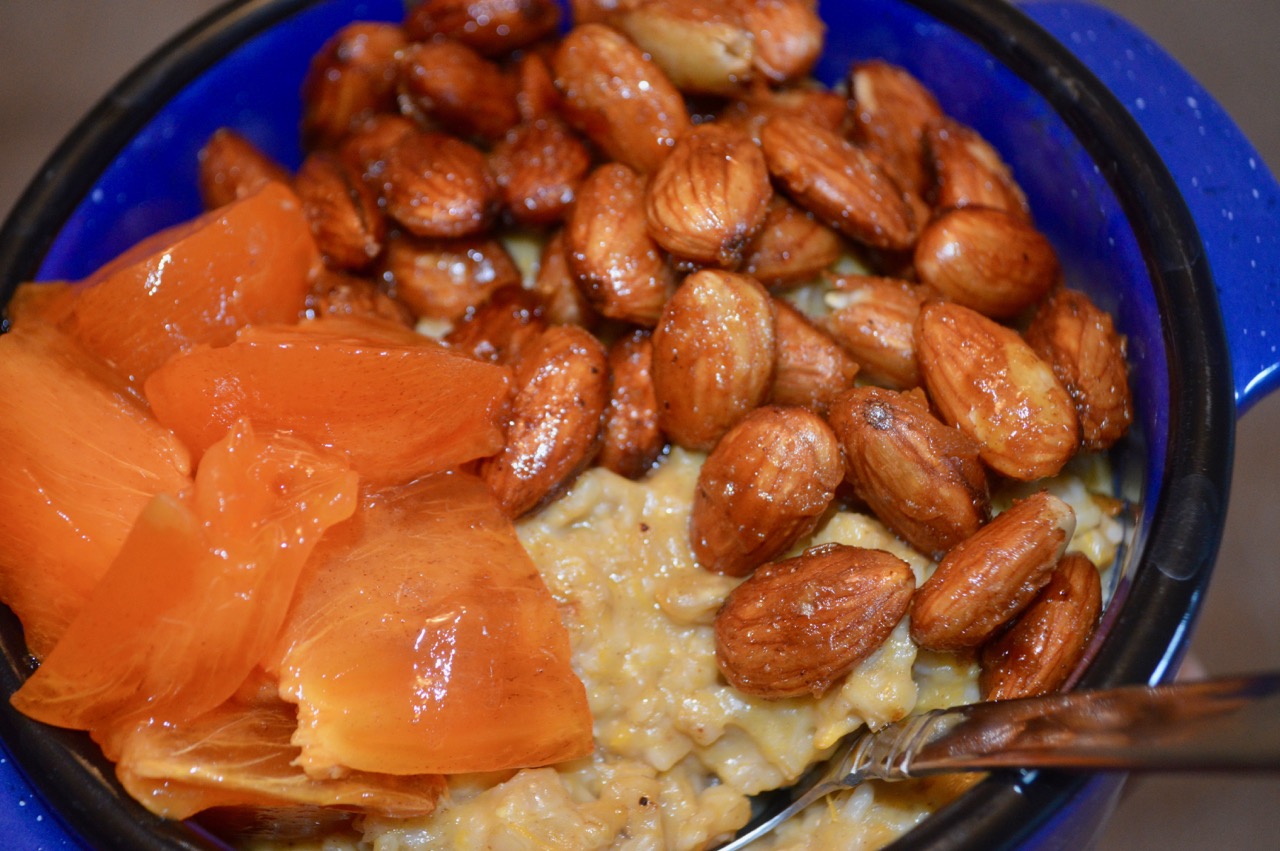 What a great way to start your morning?!!
***Note: To bake sweet potato:
Preheat oven to 400 degrees.
Throughly wash potato and poke with a knife/fork
After this is done, wrap sweet potato with foil and place in preheated oven.
Small-Medium sized potatoes takes about 35 minutes.Large potatoes take 50 minutes to an hour to cook fully.)
Potato is ready when you can fully insert a knife or fork with no 'hitches'. ***
P.S:
Myself and the
Fresh Kids Organization
launched a 10-day writing series –
Giving Good, Growing Good
to highlight the remarkable works of select organizations in the field of nutrition education, school gardening and community agriculture. I've always wanted to get involved in Community Agriculture and school gardening as well, so this has been a GREAT opportunity!
Please spend some time reading, sharing, commenting,… let us know what you think! 🙂
Thank you all so much!
In Love and Health,
Nana.
SaveSave