Hello Family!
Hiiiiiii!! I am back with a bang, wrapping up the month of May with a #WrapItUpWednesday post! Get Exciteeed!yay! hahaha!
So, as you know, I did the May Whole30 (second time this year) (yay me, yay!), and I feel great! I am trying to do AT LEAST 3 Whole30s this year, hopefully 4….. so 2 down now! I have to apologize for being quite inconsistent lately. You guys, I am honestly still in January, while the rest of the world is wrapping up the month of May! hahaha!
I am however so so so confident that this post is going to make up for ALL the lost time!SO SO SO SO Good! They say a cauliflower is just a cabbage with a college degree. Let's say, I upgraded cauliflower to a Master's, and gave cabbage that college degree! Heeeeey! (I am so corny, and I need to set the ball rolling!)
These wraps/rolls are bursting with the crispy crunch of Cabbage, and the blending of flavor from the veggies in the filling and the marinara sauce! LOVE!
So family…. here we go!
INGREDIENTS:
1 medium onion, chopped2 tsp. minced garlic
1 6 oz wild-caught salmon
1 large head of cabbage2 large carrots, shredded3 Tbsp. oil (I use olive or coconut)1½ tsp. salt (adjust to your preference)¼ tsp. pepper1 medium head of cauliflower1.5 tsp. paprika12 oz. marinara sauce
INSTRUCTIONS:
Preheat oven to 375 degrees F.Heat a large pot of salted water separately over high heat to bring to a boil. Then add the whole head of cabbage, cover and reduce heat to low. Boil cabbage for 10 minutes and then remove from pot (carefully) using wooden spoons, oven mitts, two large spatulas, what ever you want. Set aside to cool.**I used wild-caught salmon for this recipe.** You can use whatever animal protein you prefer. Tear your salmon apart into little shreds.Preheat your skillet with some coconut oil, add a handful of onions, some minced garlic and ginger, stir until fragrant. Then toss in your salmon (or whatever animal protein you're using) Stir-fry for just about 2 and a half minutes. Remember too cook it just about 'medium well done', because these will go into the oven.Now, rice cauliflower by pulsing for roughly 30 seconds in your food processor, and set aside. Chop your onions, bell peppers, shred carrots. Remember, the veggies for your filling are an endless list :)Add your wild-caught salmon (or meat), chopped and shredded veggies to cauliflower rice.Then add salt, black pepper, paprika and herbs, to taste.Using the same skillet, add some more minced garlic and ginger to coconut oil until fragrant, sprinkle some black pepper and salt to taste, and then pour in your marinara sauce. (this gives it some flavor 😉 ). Heat for 3-5 minutes on medium heat, then remove from heatGrease your baking dish with a little coconut/olive/avocado oil. Spoon about ½ cup of the marinara sauce into your baking dish and spread out to thinly cover the bottom of the baking dish.Now peel leaves from cabbage carefully(!!) to keep intact.Scoop a quarter to half a cup of filling into the center of a cabbage leaf. (depending on the size of the leaf)Now let's wrap! 🙂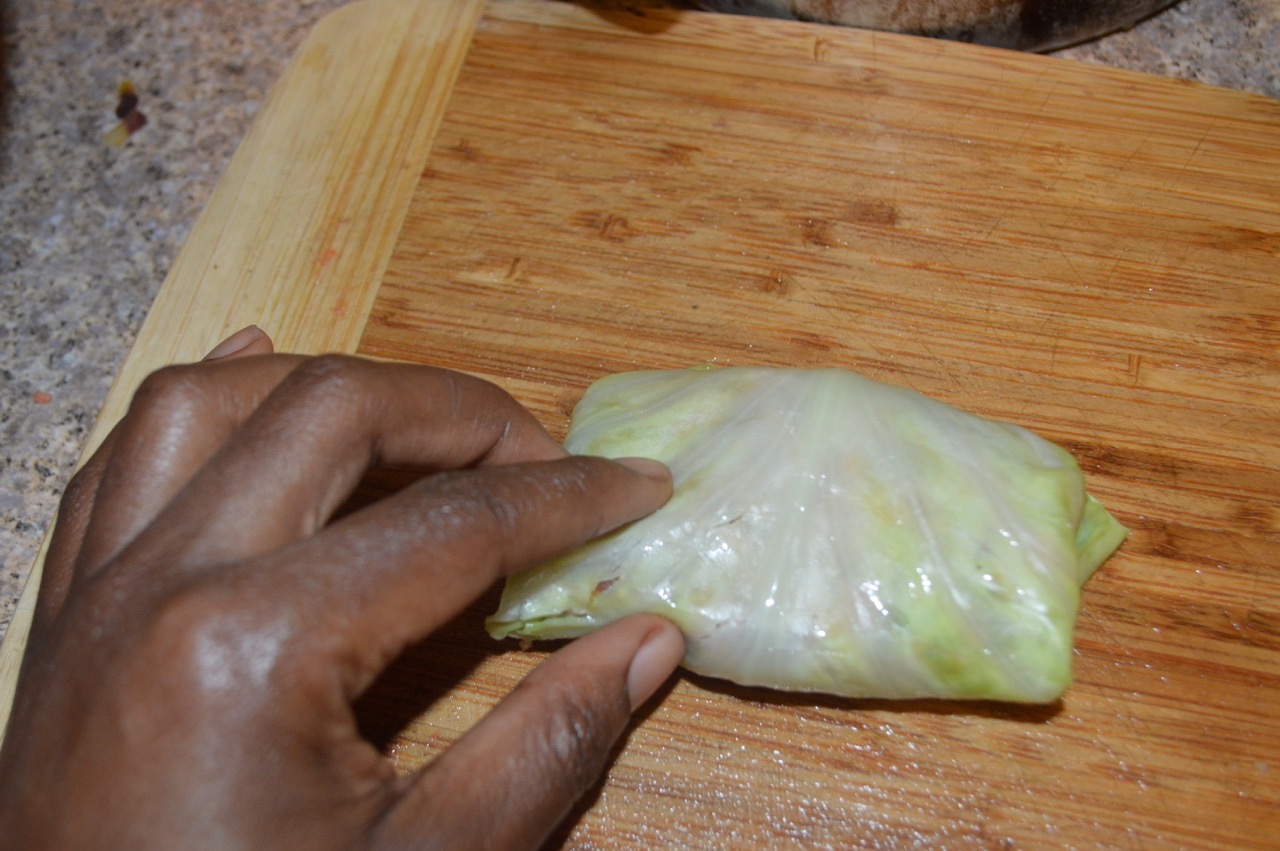 Repeat with remaining cabbage leaves until dish is full, filling is gone, cabbage leaves are done.
Spread remaining marinara sauce on top of cabbage rolls and bake for approximately 30 minutes.
After 30 minutes of baking…….
You guys, this. is. EVERYTHING! The crisp of the cabbage, the flavor in the filling, the marinara…. EVERYTHING!!! If you can, add more marinara than I did! I tasted it and wished I can more bottles of sauce!! No, seriously! This is Life- Giving!
So HUNGRY ALL OVER AGAIN!!!! These are literally ALL veggies and animal protein. Super, super, super healthy!!!!! I am sure the store-bought tacos can wait! 🙂
I love you all, and thanks for stopping by!
In Love and Health,
Nana.
SaveSave